AICS Khartoum participated in the Congress, organized by the Ministry of Health, for the approval of the National Plan for Global Health Security, based on the indications and recommendations of an external evaluation team from WHO - EMRO.
The "National Action Plans for Health Security" is the prelude to the implementation of the definition and implementation of the "International Health Regulation" and "Health Risks and Hazard" Protocols.
The approval of the first National Plan that incorporates the principles of global health security, able to respond promptly to the risks of public health, regardless of it nature and origin, has great relevance for Sudan, a crossroad of migration flows coming from all over the Horn of Africa.
The congress was chaired by the undersecretary of the Ministry of Health, Dr. Isameldin Abdalla, and saw the participation of WHO delegates and the WHO Sudan Mission Leader Dr. Naheema Al Gasser, representatives from all departments of the Ministry of Health and Institutions and Authorities in charge of ensuring safety standards in area such as environmental risks, epidemics, management of chemical and radioactive substances, monitoring and border control for people and goods.
The Under Secretary and Dr. Naheema have repeatedly emphasized the appreciation of the AICS contribution as a member of the Committee for the definition of the National Program of International Health Regulation through funding of 1 Million Euros to the WHO (AID 11110). Equally appreciated was the continuous collaboration assured in the management of health emergencies (especially during the recent cholera epidemic) and the national "Health Surveillance for Infection Control" program realized with the AID 11002 Emergency Programme, which involved 7 States in order to guarantee a timely transmission of data from sentinel structures to higher structures.
The recognized commitment of the Italian Cooperation to these health issues - in line with SDG 3, is part of the AICS Office in Khartoum strategy to ensure the Right to global health in contexts where there is great fragility and therefore the greatest risks of serious epidemics.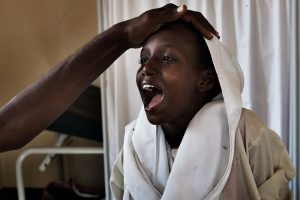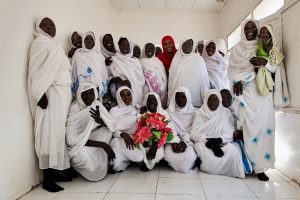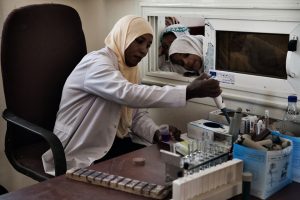 Foto credits Laura Salvinelli